My Grandmother and I used to watch old reruns of I Love Lucy. In one episode, Lucy has moved to the country and decides to mow the lawn on a riding mower to prepare for a tulip contest. She inadvertently mows over her neighbors prize tulips. Lucy replaces the tulips with wax and while judges are determining a winner for the contest, the sun melts the flowers.
This is a great visual. From the exterior, the flowers look beautiful. They act and appear to be the same as real flowers. What happens when the sun is too hot? They melt. There is no root.
My Grandmother used to plant artificial flowers in her window boxes. She received many compliments on how beautiful they looked and how quickly they grew out of season. From a distance, they did look beautiful. They lacked the beauty of real flowers however. There was no fragrance, no new growth, no movement from the wind and no seasonal color change. While artificial was easier, there is satisfaction in watering and caring for real flowers that grow and bloom.
How can we determine if a person is real or artificial? Thankfully, Holy Spirit guides us and provides a measuring metric. On the surface some Christian's may look like they know God's Word and are living in it, but a closer look at what they are producing: strife, stress, sickness, lack, greed all highlight that they are artificial and not deeply rooted in Jesus Christ. There is a Bob Marley quote – You never know how strong you are until being strong is your only choice. The same is true in faith. While you may think you are strong in faith, what happens when something happens? Do you live the worlds way or God's way?
How can we determine real from fake? The bible says we will know them by their fruit
(Matthew 7:16) is part of Jesus' teaching about recognizing true followers and avoiding false prophets or counterfeits. Beginning with verse 15, "Beware of the false prophets, who come to you in sheep's clothing, but inwardly are ravenous wolves. You will know them by their fruits. Every good tree bears good fruit, but the bad tree bears bad fruit. A good tree cannot produce bad fruit, nor can a bad tree produce good fruit. Every tree that does not bear good fruit is cut down and thrown into the fire. So then, you will know them by their fruits" (Matthew 7:15–20).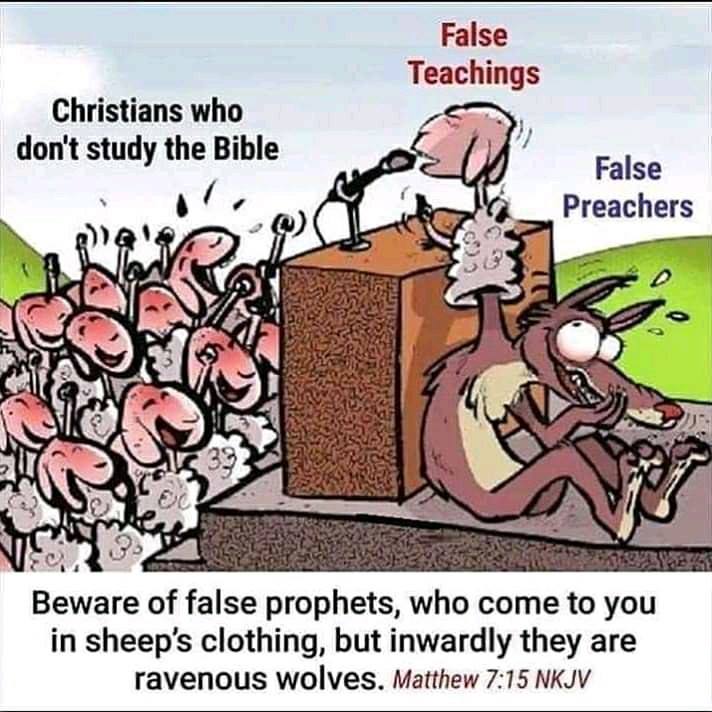 There is a great teaching in the 7th chapter of the Gospel of Matthew from verse 1 to verses 24–27. In verses 21–23, Jesus makes a "pondering" announcement to many who assumed they belonged to Him. He warned them that on Judgement Day, they will hear Him say, "Depart from me. I never knew you." Just before that warning, Jesus had indicted those who pretended to follow Him but whose lives indicated something else. He told His followers that the "fruit" of their lives proved what was inside their hearts (Mark 7:20–23).
When Jesus says, "You will know them by their fruit," what does "fruit" mean? Jesus gave the illustration of grape vines and fig trees. When we see grape vines, we expect them to contain grapes in season. We also expect fig trees to produce figs. A produce farmer who notices one of his fruit trees not bearing any fruit will cut it down. It is useless. Likewise, we would not come to a field of thistles and expect to harvest fruit. Thistles and thorn bushes can never produce fruit because of their nature. It is impossible. They have no capacity to produce anything but thorns (Matthew 12:33).
In our lives, every word and every action is fruit from our hearts. Sinners sin because that's what is in their hearts. When Jesus said, "You will know them by their fruit" concerning false teachers, He was giving us a guide for identifying them. False prophets, speakers of lies, will have actions that correspond to their errant message. Just as their message is anti-God, so will be their works. They will stray from the path of righteousness.
When we repent of our sin and receive Jesus as Lord of our lives (John 1:12; Acts 2:38), He changes our hearts (2 Corinthians 5:17). Now the fruit that is produced is good fruit. Galatians 5:22 lists some of the fruit produced by a heart in tune with God. Our attitudes, actions, words, and perspectives change as we walk in fellowship with the Holy Spirit (1 John 1:6–7). When our hearts change, our fruit changes.
Godly teachers will display good "fruit" such as making disciples (Matthew 28:19), using their gifts to benefit others (Romans 12:4–8), leading lost people to Jesus (James 5:20), loving their fellow believers (1 John 3:14), and seeking humble ways to do good everywhere (Jeremiah 29:7). All of these things are indications of a good heart.
Often, people profess faith in Jesus as Savior, but it is a mere profession with no real faith. Some religious groups encourage baptism, confirmation, or other religious rites that are supposed to ensure one's future in heaven. But as time goes on, the fruit being produced in such a life looks nothing like what is clearly prescribed in the Bible (1 Peter 1:16). Some attend church services but spend the rest of their time living entirely for themselves. Some may rise to prominence, even teaching or preaching, writing books, or dominating the media, but the fruit of their lives belies their words (Matthew 24:24). Greed, deception, immorality, pride, or dishonesty defines them, making them false prophets by Jesus' standards (2 Peter 2:1–3).
While we can never know anyone else's heart, we can make wise assessments about other people by observing the regular fruit of their lives. All of us stumble from time to time, and we may go through seasons of bearing little fruit (1 John 1:8). But (1 John 3:4–10) makes it clear that those who know God will not continue a lifestyle of bearing bad fruit. We have been transformed, and the fruit of our lives is evidence of that transformation. We can identify those whose hearts have been redeemed by the fruit we see in their lives.