Do you feel stagnate? Just like kids ask "why", if we find ourselves in stagnation, we should ask "why". 
God created us for meaningful work. He put desires on our heart to fuel us and excite us. What has become your identity? Work? Doing something on auto pilot?
I work with many people that have no passion outside of work. Work has become their only identity. So how do we know what our God given purpose is?
God consistently instructs us to take time to rest. Where the world is the complete opposite, pushing us to work harder, adding more hours and requiring we give more and more, God wants us to live fulfilled and complete in Him.
God models rest, which allows us to focus on Him. If you find something is becoming more magnified than God, take time to schedule in rest so you can hear His plan for you and discover your why!
One of the simplest ways to find rest is by planning when you're going to do it. Try scheduling it on your calendar and consider communicating the times to your family and friends.
Whether it's 20 minutes or 24 hours, rest gives you room to appreciate and experience the things God created you to do.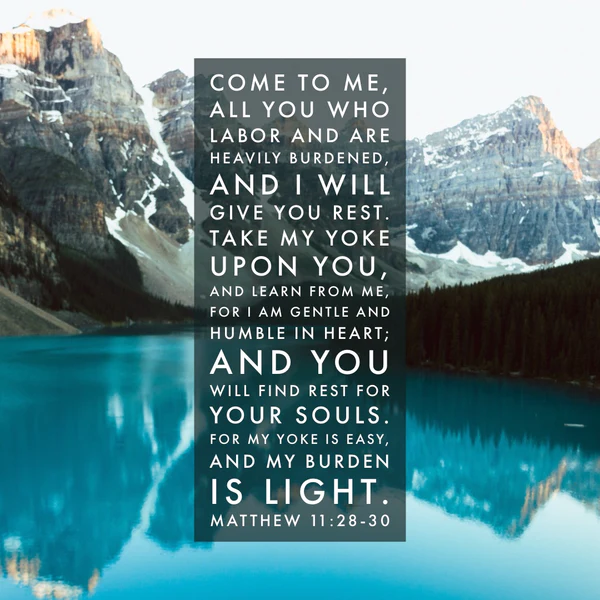 When we rest, the temptation to fall into busyness becomes even greater. But true rest doesn't always look like doing nothing.
When you schedule time to rest, plan to do something that brings you joy or peace.
This could include spending time appreciating God's creation or cultivating a hobby God wired you to be passionate about.
Don't Do It Alone:
God created us for community, and those relationships can be one of the most tangible ways we experience God's presence.
Finding a rhythm of rest isn't something you have to do alone. Think about ways you can rest alongside your family or friends.
Resting together will help you to stay accountable when the world tries to pull you into work and activity.
Be Relentless:
Practicing rest is a spiritual discipline. And, like any discipline, resting requires determination and self-control.
Rest helps us enjoy God's presence and realign our priorities.
Rest allows us to trust that God is working even when we aren't.
Rest Scriptures:
Matthew 11:28-30 – Come unto me, all ye that labor and are heavy laden, and I will give you rest.
Matthew 11:29 – Take my yoke upon you and learn of me; for I am meek and lowly in heart: and ye shall find rest unto your souls.
Psalms 37:7 – Rest in the LORD and wait patiently for him: fret not thyself because of him who prospereth in his way, because of the man who bringeth wicked devices to pass
Psalms 46:10 – Be still and know that I am God: I will be exalted among the heathen, I will be exalted in the earth.
Psalms 4:8 – I will both lay me down in peace, and sleep: for thou, LORD, only makest me dwell in safety.